NOTE: I started writing this back on 13 January. Only realised I had never finished it.
So… We made a MASSIVE decision a couple of months back. And as the title suggests, this is not a photography related post.
It was decided, by my wife and I, that after several years of cheaper second hand cars and a few years of using my company van as a private vehicle, that we will be purchasing our FIRST EVER BRAND NEW CAR!!!! (Well… Financing our first ever brand new car 😂🤣😂)
Our last car was nicknamed GoldDigger as its annual running costs were more than what we paid for the car to begin with.
May I present to you, our Mystery Blue Seat Leon Cupra!!! (We still haven't named her yet)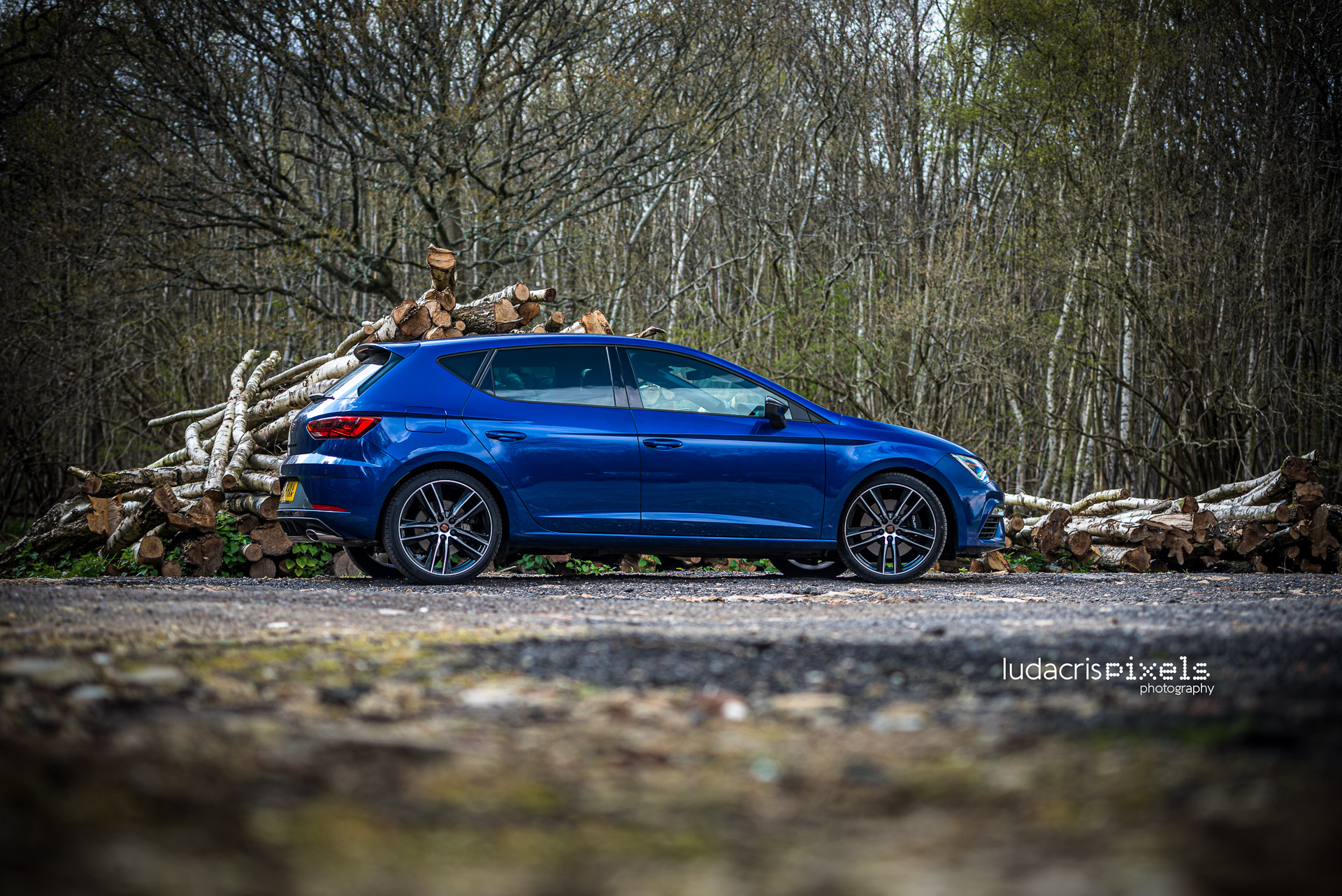 This took a while to decide and after window shopping around for a bit as well as asking all the usual questions:
Should we? 🤔🤔
Shouldn't we?
Is a brand new car worth it?
Maybe we should just carry on with a run around banger?
What about running costs? 💸💸
Etc
Etc
We thought FUCK IT!! Might as well just pull the trigger. It's only money and you live once, ey? So why not have something you enjoy driving.
Money ppl will say; "Waste of money. Cars devalue. Blah Blah."
My dad says; "Why do you need such an expensive fast car? There's nowhere to drive it on the roads because of speed laws"
But Gary V always says, "You're going to die. So just live" Or something like that.
And I know what you're going to say… "You can't take it with me when you're gone. You could save the money or spend it on something else." But once again, it always goes full circle with and I end up repeating what I said earlier. Fuck It!!! Just do it.
Now since getting the car, starting this post and as of now, it's already done 6000 miles and had the passenger door dented by some inconsiderate TWAT who blatantly denies it (when she was approached by security, as we couldn't sit around waiting for the owner of the maroon shitbox.) yet there was definite paint transfer from her car to mine. In the last photo you can see a smidge of Maroon Paint in the middle of the ding.
And FYI!!!! Look how far across I parked. It was the end spot. There was LITERALLY no one else at that side of the parking lot when we arrived, at the NEC in Birmingham for the Photography Show.
That way, with the relatively low mileage I do annually, it should hold some sort of value and it might fetch an above market value price when I'm done with it. Either by replacing it, giving it back to the dealership or selling it on.
Moving on from all that noise, man, is this thing fast. I'm not a big car guys as I was when I was younger. Not interested in bhp and torque and split differential wheel axial blah blah…
Does it look nice.
Does it sound good.
Does it travel well.
Can I afford it.
Those are more or less the questions I asked. And so far, 3 of those 4 questions are answered.
Which one isn't answered? The affordability. Yes. Yes I can afford it. BUT… That more or less was my photography/hobby disposable income. Now it's tied up into a car. Petrol. Cleaning products. Savings for car fund (tyres etc)
None the less… I love it. Enjoy it. And look forward to always driving it.
2.0 litre 4 cylinder TSI Engine
DSG 7 Speed Gearbox
290 HP (213 kW) @ 5300 – 6500 rpm
380 Nm of Torque @ 1950 – 5300 rpm
250 Km/h Max Speed
Acceleration 0-80 Km/h – 4.4 s
The rest of the info, to me, is noise.
For those that are interested I occasionally post some car snaps on my other Instagram. You can find me on
@Ludapix
And there you have it folks… New toy. So far so good.
What you driving around? Someone told me to get the Golf R instead of the Cupra. Thoughts??